Tecnocampus PG Knowledge and Epinium companies present at the Mobile World Congress
21/03/2018
Tecnocampus Mataró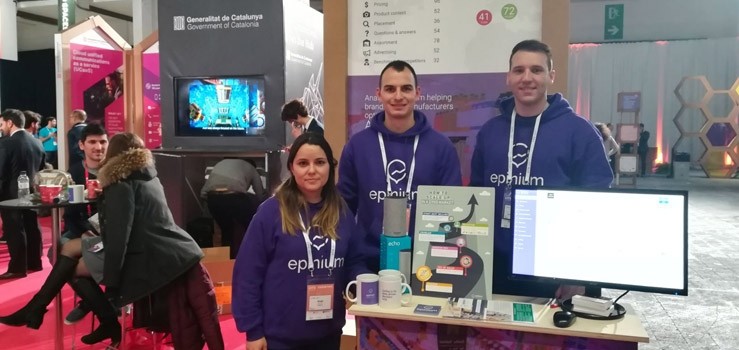 Two companies from the TecnoCampus business park, PG Conocimiento and Epinium, are participating until tomorrow in the Mobile World Congress (MWC), the most important event in the world in the field of telephony and mobility. Both companies participate with their own stand: PG Conocimiento in the MWC and Epinium in the 4YFN, an international reference and attraction point for entrepreneurship.
PG Knowledge is a company focused on so-called business intelligence, which involves the transformation of data into knowledge to optimize the decision-making process. Mara Gómez, partner and director of the company, says that the MWC is a great showcase to present Atlas SBI: "Our goal is to contact potential technology partners to establish strategic alliances and extend our business intelligence solution in other markets. In this sense, the alliances may be with multinational consulting firms or software manufacturers that are looking for an innovative alternative in this field. On the other hand, the MWC is also a great opportunity to get to know the latest developments in the sector. In this sense, Xavier Plaza, technical director of PG Knowledge, says that the main trends in business intelligence are in mobility and learning machine. "The learning machine consists of the automatic learning of the machines through a software that allows detecting behaviour patterns through data analysis," says Plaza.
In the case of Epinium, winner of the latest Creatic awards for entrepreneurship, this is the second year she has exhibited at the 4YFN, where more than 600 start-ups from around the world are participating. This year they introduce Epinium Analytics, a cloud-based tool to help brands and manufacturers present on Amazon create their next sales hit. "We achieve this by optimizing organic positioning, through titles, descriptions and photos of the product, for example, but also through paid positioning", explains Carlos Martínez, founder of this start-up located in the incubator of TecnoCampus.
The company will launch Epinium Analytics in 2018 after having received 75,000 euros from the Government of Catalonia, which will be used to promote a type of innovation applied to the marketplace. Its objective is that companies can launch a product at a price that is very attractive in relation to their competitors.
Back