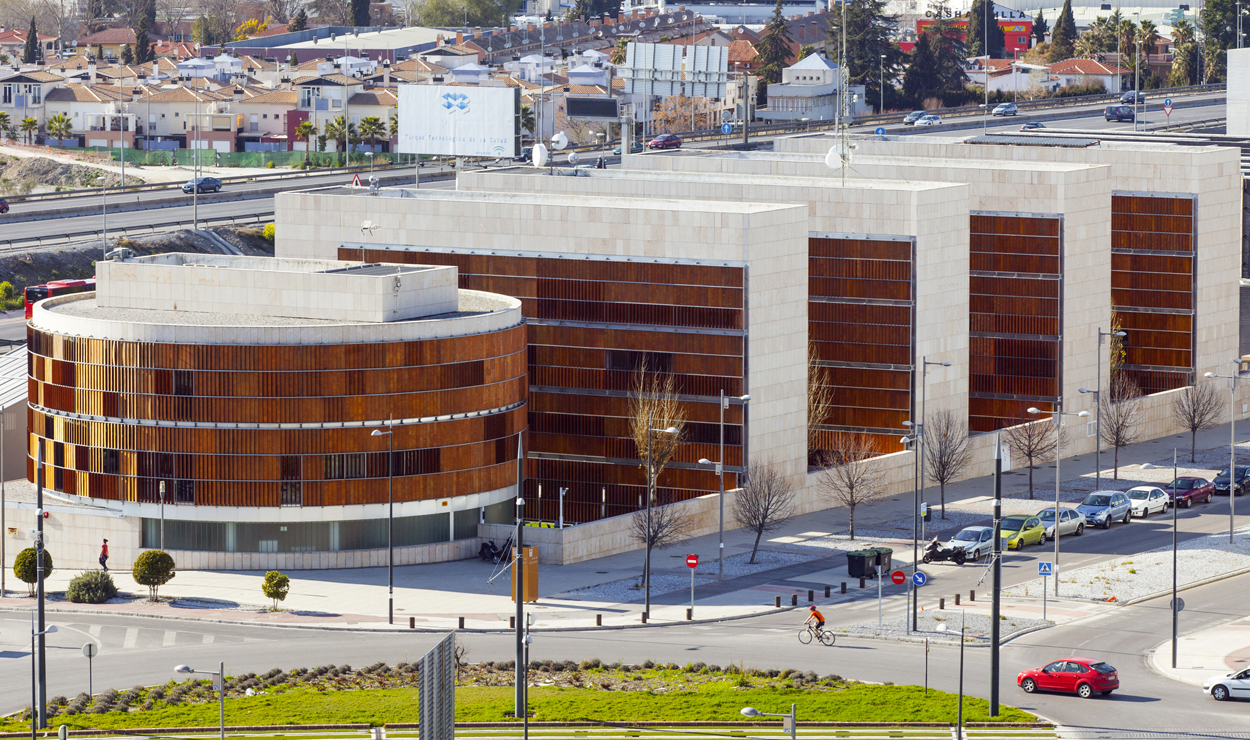 Granada Health Technology Park – PTS Granada




Park information:
City: Granada
Address: Avda. del Conocimiento, 33
Web: www.ptsgranada.com
Phone number: +34 958535050
General e-mail: info@ptsgranada.com
Contact person:
Name: Alicia Utrilla
Position: Internationalization Officer
Phone number: +34 958535050
E-mail: alicia@ptsgranada.com
Skype ID: PTSGranada
Soft landing Facilites and Services:
Seminar Room: a 117 m² space available to host up to 70 people for conferences, seminars, training programmes, etc. It is equipped with sound and projection systems and WIFI network.
BioRegión Building:
The BioRegión Building offers a 100 m² Seminar Room and a 45 m² Meeting Room, both equipped with all the required audiovisual media services.
Armilla R&D Building:
Auditorium: a 234 m² space with a seating capacity of 167 people, equipped with the necessary technical facilities to perform any conference or event.
Incubation Spaces:
The Business Innovation Center (BIC Granada) offers multifunctional office and lab space as well as technical, logistical and environment-technical support to R&D-intensive life sciences and ICT companies.
Services:
Communication and Dissemination services, Networking Activities and Partnership Building.
General information:
The Granada Health Technology Park (PTS Granada) is the first Spanish technology site specialized in Health and one of the very few in Europe. It covers an area of 625,000 m², housing its four main areas: Research, Teaching, Patient Care and Business Development.
91 companies and institutions are already up and running in the PTS, employing 2,117 people, 49% of whom are working on R&D activities. The Park has already created more than 1,000 new skilled and highly skilled jobs.
Environment:
Granada, a creative, dynamic city, the crossroads of cultures and routes for the people who created it and its history, nestling between the Mediterranean and the peaks of Sierra Nevada. It is a bridge between the past and the future already represented by the Health Technology Park.
Granada is also an example of an open city, one that is proud of its past, looking towards its future in a quest for a new progress model based on its heritage. But it is also a key benchmark in major scientific and technological projects thanks to the research potential of its University and the techno-city represented by the PTS, the Health Technology Park.
Infrastructures:
The PTS has place Granada at the forefront of biomedical research through specialized, prestigious centers, such as:
"López Neyra" Parasitology and Biomedicine Institute, in which research in immunology and pharmacology is performed to fight diseases such as cancer.
Functional Food Research and Development Center (CIDAF): here, work is carried out in collaboration with agro food companies to develop new foods and improve the quality of existing ones.
MEDINA Foundation, a result of the collaboration between the MSD laboratories, the regional government of Andalusia and the University of Granada, research is performed to the discovery of new drugs for the health systems.
Center for Genomics and Oncological Research (GenYo): a space in which the multinational Pfizer participates, and where research is performed to genetics and the body's response to new drugs.
Biomedical Research Center (CIBM), home to highly qualified Institutes in Biotechnology, Neuroscience, Nutrition and Regenerative Medicine, and which is also the headquarters of the Biobank of the Andalusian Public Health System.
Advanced Multifunctional Center for Simulation and Technological Innovation (CMAT): is a center for the development and training of health care professionals, where the latest technologies in simulation and robotics are used.
University of Granada's Medicine and Health Science Faculties
BIC Granada: a space dedicated to the creation and consolidation of technology-based companies specializing in health and ICT
University Hospital
In addition, the park is also home to other top class centers, such as the Institute of Legal Medicine, the Sports and Health Institute, Rovi, Vircell, Máster Diagnostica, the BioRegion building and the Technology Park Foundation.
Services:
R&D Services: Microscopy, Cell Culture, Flow Cytometry, Proteomics, Genomics, Animal Experimentation, Bioanalysis, Radioactive Unit, Crystallization, Food Analysis, Drug Discovery
Business Services: Entrepreneurship, Incubation Services, Business Development
Innovation and Technology Services: R&D Financing, Technology Transfer, Industrial Property, Technological Surveillance, Communication and Dissemination services, Networking Activities and Partnership Building
General Services: Security, Restaurants, Hotels, Healthcare Services, Business Associations, Public Transport